Mobile Recreation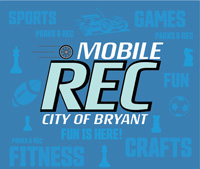 THE FUN IS HERE!
Mobile recreation is Bryant's recreation program that brings the fun to you!
Play Bryant!
The primary goal of our mobile recreation program is to have fun in the great outdoors! By connecting families and friends with resources such as games, crafts, sporting activities, and leisure activities, our hope is to initiate a movement throughout Bryant by PLAYING.
Activities
Some of the activities you can expect to experience are:
Board games
Yard games
Sport activities
RC Race Cars
Portable Skating ramps
Arts & Crafts
AND MORE TO COME!
Mobile Recreation Location
This year, Mobile Recreation will be out and about the first Saturday of every month following Coffee with the Mayor. Coffee with the Mayor begins at 9AM and activities will begin once that is concluded.
August 7th, 2021 at Ashley Park 10AM-12PM
---