Animal Control & Rescue Services
The Responsibilities of Bryant Animal Control Officers
Animal Control Officers (ACOs) enforce the Laws and Ordinances pertaining to the keeping of animals within the City Limits of Bryant. ACOs also rescue animals from a variety of situations including: animals left in hot vehicles, animals trapped in fencing or other objects, animals that have been hit by vehicles, and cruelty investigations. ACOs also assist with the relocation and/or removal of nuisance animals such as feral cat colonies and wildlife. To report any problem or concern to animal control contact us at, Phone: 501-943-0489 or for Non-urgent inquiries via E-mail: animalcontrol@cityofbryant.com.
Bryant Neuter Initiative Program - SNIP
SNIP is a program to help offset the cost of spay/neuter by paying a portion of the cost for City of Bryant residents ONLY to have their own dog or cat spayed or neutered. SNIP is a program that is paid out of public funds, and is only available to residents living within the Bryant City limits only.
Learn More
City Ordinance Information
The following is some basic information about the City ordinances regarding animals. For a complete copy of the animal ordinances, please contact the City Clerk's Office.
Impounded & Surrendered Animals
Animals may be impounded by animal control officers for a variety of reasons, the most common being found running at large in violation of the leash law. Animals that are impounded are taken to the shelter for safekeeping and held for 5 days to give the owner time to claim them. Animals which are not claimed by their owners are evaluated and placed up for adoption as appropriate.
If you would like to request that we accept your animal for rehoming, please visit the Adoption Center/Shelter page for information, and to apply to bring an animal into our program.
Confinement (the "Leash Law")
All animals kept as pets and livestock are required to be confined to the owner's property at all times. When off the owner's property, they must be under physical control by a leash, lead, or inside of a vehicle or pet carrier.
The First 48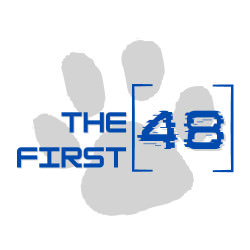 Data shows that most animals are picked up within 1/4 mile of their house and are nearly twice as likely to be reunited if NOT taken to the animal shelter. So, we are empowering citizens to hold onto a found pet for the first 48 hours if the pet can remain close to where it was originally found while actively searching for their human family. Need food and supplies? Ask friends, neighbors or family members to loan you supplies such as kennel, bowls, etc. We can also help out with food, or bedding if needed. The shelter is now open 6 days a week, so reach out - we can help! To learn more about what to do when you find a displaced pet, click HERE.
Vaccinations and City License
All dogs and cats must be vaccinated to protect against the rabies virus and licensed with the City. To get your pet licensed, please visit our Licensing and Permits page for more information.
Kennel Permits
If a resident intends to own or keep more than 4 dogs on their premises, they are required to obtain a Kennel Permit. The annual fee for a Kennel Permit is set by City ordinance, and requires an annual inspection. Please contact us for details, or visit the Licensing & Permits page.
Deceased Stray/Wild Animals
Stray or wild animals that are less than 100 lbs in size are collected by animal control during regular business hours. Just give us a call, and an ACO will respond as soon as possible. If over 100 lbs, and in the City right-of-way, please contact the Bryant Public Works at 501-943-0999.
Deceased Owned Animals
Owned pets that have passed away may be removed from your home or property, and cremated at a minimal charge. Please contact us to make those arrangements.
Pet Waste
All areas in which animals are kept shall be cleaned regularly. Owners of animals that defecate on public or private property without the owner's permission are required to remove the waste immediately.
Barking and Noise
Any animal restrained on a property shall be kept so that any noise emanating from them shall not disturb any person residing within a reasonable distance.
Exotic/Wild Animals as Pets
Residents having wild or so-called "exotic" pets are required to obtain a Wild Animal Permit from animal control. To learn if you are required to have a permit, contact us. You may also apply online for a permit.
Livestock
There are no city ordinances prohibiting or restricting the keeping of livestock. However, there are some restrictions within many housing and commercial developments. Refer to your property owner's association for guidance or your subdivision regulations.
We have a voluntary registration program for livestock to assist officers in locating animal owners in the event of an emergency, click HERE for the online form.
Animals for Sale or to "Give-Away"
Offering animals for sale or "for free" in the public right of way, parks, or parking areas within the Bryant City limits is prohibited. Organized adoption events hosted by animal shelters or rescue groups are allowed with the Animal Control Director's approval. For information on how to obtain approval for an adoption event, contact the Animal Control Director.